Additional equipment for BCC-BSF
Home /
Additional equipment for BCC-BSF
Threaded bars for the BCC system
Reinforcement bars in front, for BCC 450 and BCC 800
Safetyrope for transportation, the BCC system
Safetypin for transportation, the BSF system
Magnetic guide for the column unit, BCC system

Threaded pin bars for the BCC system
Treaded pin bars

Dimensions

Standard lenghts

M10

1m ,2m o 3m

M12

1m ,2m o 3m

M16

1m ,2m o 3m

M20

1m ,2m o 3m

M30

1m ,2m o 3m
Front reinforcement bars for BCC 450 and BCC 800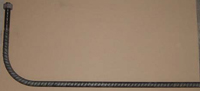 The bended bars are made to fit a specified beam dimention. This is done to ensure a correct location of the horizontal part of the base, - as low as possible in the beam.
Safetyrope for transportation, BCC system



In plastic bags containing 10 ropes. These will prevent the "knife" in the BCC unit to slide out during handling and transport.
Safetypin for BSF units



A pin made of steel, locking the "knife" in the unit, during handling and transportation.

Magnetic guide for column unit, BCC system



Magnetic box to clamp to the steel mould, making the perfect guide for the column unit. Can also be provided without magnets.